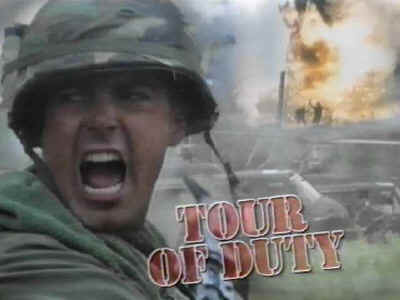 HUM 90
TOUR OF DUTY PAGES

12/03/19


Tour Of Duty how its meant to be
with the Original Music


Tour Of Duty how its meant to be
with the Original Music


Tour Of Duty how its meant to be
with the Original Music



This site is owned and maintained by Craig Blackmore.
All photographs and other material used is from my private, personal collection, unless stated.
CopyrightÓ2000-2019 Craig Blackmore. All rights Reserved.


Tour of Duty first aired in the USA on September 24th 1987. A series about the soldiers of Bravo Company led by Captain Rusty Wallace, Lieutenant Myron Goldman & Zeke Anderson.
The series showed and illustrated the complexities of war and also it portrayed the personal lives of the individual platoon members and their interactions with each other. It realistically portrayed the diverse mixture of young men and women from across the USA engaged in the war and its effects.
The beginning of the show takes place in 1967 when the war had escalated & shows the young men thrown into combat in Vietnam where they face enemy troops as well as their own fears as they struggle in a hostile environment.
Tour of Duty ran from 1987 to 1990 and followed the members of Bravo Company from their first camp at Firebase Ladybird to the eventual movement to Camp Barnett where they became part of a Special Operations Group.
The first season was filmed entirely on location in Hawaii but was moved to Los Angeles for seasons two & three. It was filmed at Valencia California, in the Santa Clara area near the Newhall Ranch.
DISCLAIMER: Tour of Duty and its characters are the property of Zev Braun Productions and New World Productions. No copyright infringement is intended. This site was created to help share information about the show, its cast ,crew and characters. I would like to thank everybody for the assistance with my efforts on this site.