KIM DELANEY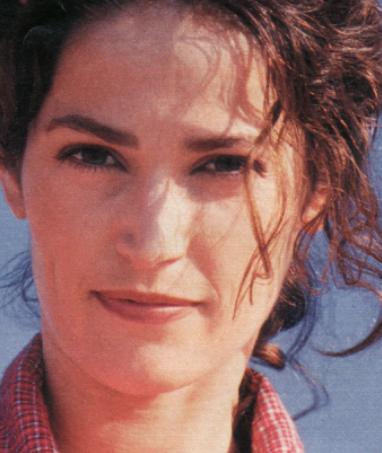 Filmography


Mission to Mars as Maggie McConnell.... 2000
The Devil's Child 1997 .... Niki
All Lies End in Murder 1997... aka Behind Every Good Man
Closer and Closer 1995 .... Kate Saunders
Project: Metalbeast 1995.... Anne De Carlo
Serial Killer 1995 .... Selby Younger
Tall, Dark and Deadly 1995.... Maggie
NYPD Blue TV Series .... Detective Diane Russell 1995-
Temptress ( Also called Dark Goddess) 1994.... Karin Swann
Darkman II: The Return of Durant 1994 .... Jill Randall
The Force 1994 .... Sarah
The Disappearance of Christina 1993... Lilly Kroft
Jackie Collins' 'Lady Boss' 1992 .... Lucky Santangelo
The Fifth Corner 1992 TV Series .... Erica Fontaine
The Broken Cord 1992.... Suzanne
Body Parts 1991... Karen Chrashank
Hangfire 1991.. Maria
Tour of Duty as Alex Devlin 1989-1990
The Drifter 1988 .... Julia Robbins
Please Take My Daughters 1988.... Evan
Something Is Out There TV .... Mandy Estabrook
Campus Man 1987 .... Dayna Thomas
Hunter's Blood 1987 .... Melanie
Christmas Comes to Willow Creek (TV) .... Jessie
Cracked Up 1987 .... Jackie
Perry Mason: The Case of the Sinister Spirit (TV) .... Susan Warrenfield
The Delta Force.... Sister Mary
That Was Then... This Is Now 1985.... Cathy Carlson
First Affair 1983.... Cathy
All My Children TV Series .... Jenny Gardner Nelson from1981to1984 & again in 1994

TV

Tales from the Crypt as Gloria Fleming in episode The Sacrifice 1990
Hooperman in episode Baby Talk 1987 L.A. Law playing Leslie Kleinberg
in episode The Wizard of Odds
in episode Brackman Vasektimized
in episode Cannon of Ethics
in episode The Lung Goodbye

The Equalizer

playing Sally Ann Carter in episodeUnnatural Causes 1986

FILM REVIEWS

Serial Killer 1995

Cop Selby Younger (Delaney) is able to think like a killer in order to catch them. That's how Selby captured serial killer William Lucan Morranco (Bell).He escapes and wants revenge on her and starts leaving a trail of bodies for her to follow using her friends the as bait.

Director Pierce David

Writer Mark Sevi

Cinematographer Thomas Jewwett

Music Louis Febre
Tall Dark and Deadly 1995 –tv cable movie
Delaney falls for a guy who turns out to be far from his pleasant first appearance
Delaney stars as a photograper who returns from a trip to India and has become obsessed with the goddess Kali. Strange things start to happen to her behaviour and her work
Darkman 2: The Return of Durant 1994
The first in a series of direct-to-video adventures about disfigured scientist Peyton "Darkman" Westlake ,who's continuing his liquidskin research.
The Force 1994
Project Metalbeast :D.N.A. Overload 1994
A C.I.A. agent cyrogenically frozen for 10 years, becomes the guinea pig when a group decide to unthaw him for a DNA experiment involving living metal skin.
The Disappearence of Christina 1993
Body Parts 1991
A crime psychologist loses his arm in a car crash and recieves a transplant from an executed murderer.—based on the novel "Choice Cuts" by french writers Pierre Boileau & Thomas Narcejac.
When a New Mexican prison is evacuated due to a chemical explosion, several immates make a break for it. And decide to take along the local sherrif's wife.
The Drifter 1988
Campus Man 1987
An entrepreneurial college student markets a beefcake calendar featuring his best friend, until sales threaten his friend's amateur athletic status.
Also stars John Dye
Christmas Comes To Willow Creek 1987
Mutually antagonistic brothers are enlisted to deliver Christmas gifts to an isolated Alaskan Community
Five city types plunge into the Southern wilderness to hunt deer,and are stalked by Hillbillies.
Based on a true hijacking of a TWA plane in June 1985
That Was Then……This is now 1985
Adaptation of S.E.Hinton's teen novel about a sultry kid who is attached to his adoptive brother & becomes jealous when the brother gets a girlfriend.
102mins
Emilio Estevez,Craig Sheffer,Kim Delaney,Jill Schoelen,Barbara Babcock,Frank Howard,Larr B. Scott,Morgan Freeman
Directed by: Christopher Cain
Written by: E. Estevez