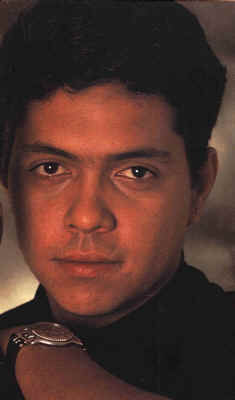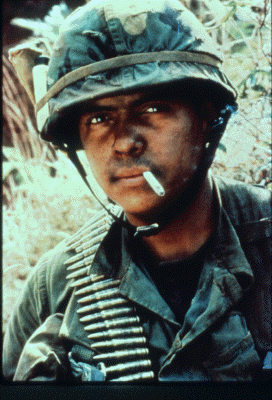 Ramon was already highly qualified to star in Tour of Duty, as he had previously been cast as a grunt in Clint Eastwood's "Heartbreak Ridge", he was a combat marine in the play "Wasted" and starred in a National Guard commercial.
He said in an interview "I think that I should qualify for the GI Bill or something, everything started for me with that National Guard commercial, they told me I could have the part if I cut my hair, which was really long at that point.
I did it, got the commercial and a couple of months later I got the call for "Heartbreak Ridge", that role led to Tour".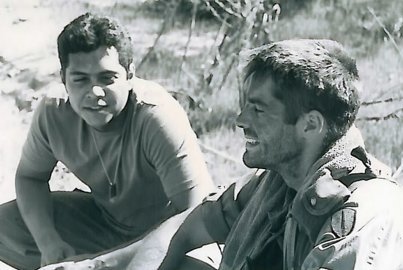 Filmography

62 Pickup 2008 (pre-production) .... Juan Valdez
The Perfect Game 2008 (post-production) .... Sr. Villarreal
Women's Murder Club ....2007 1 episode - No Opportunity Necessary........Nivaldo Quiroga
Prison Break ....2007, - 1 episode - Call Waiting.... Raul
Resident Evil: Extinction (2007) .... Runty
The Company - 2007 - TV mini Series .... Arturo Padron
Resident Evil: Extinction --release date 2007.... Runt
House
In Justice - 2006
Cold Case - 2005
ER - 2004

Snith -2003 A pilot for the F/X Network.
***



Foto-Novelas II: Junkyard Saints - 2003 as Ray
JUNKYARD SAINTS is a spiritual thriller set in the tough, gritty world of an auto dismantling yard somewhere in rural South Texas. The story centres on Lalo Flores (played by Jeremy Ray Valdez), a Latino teenager recently released from a youth detention facility, and his growing acceptance of the son he has recently fathered. He works for Clemente (Leon Singer), who has the unusual habit of collecting the plastic dashboard saints that are extracted from the wrecked cars brought into the junkyard. Clemente believes these saints have failed to protect the drivers of these doomed vehicles and need to be "retired" to a shed he's been filling with faulty saints for the last 30 years. When Lalo encounters Ray (Ramon Franco), a local drug dealer, he finds a different sort of refuge and salvation among Clemente's saints.
Executive Produced by Carlos Avila
Produced by Debra J. Olchick
Written and Directed by Carlos Avila
***
Justice 1999 (TV) .... Carlos
High Sierra Search and Rescue 1995TV Series as Cruz
Hostile Intentions 1994 as Officer Alonso
Search and Rescue 1994
Shattered Image 1994 TV as Jorge
Extreme Justice -----uncredited 1993
Street Knight 1993 as Cisco
Sworn to Vengeance 1993 as Hector Martinese
Kiss Me a Killer 1991 as Ramon
Chains of Gold 1991 as James
Bullet-proof 1988 as Camilo
Tour of Duty as Private Alberto Ruiz
Heartbreak Ridge 1986 as Aponte
Deadly Force 1983 as Jesus
We're Fighting Back 1981

a TV movie about the Guardian Angels,

as Benny
The First Deadly Sin 1980 as Boy #2 on Bus
Times Square 1980 as Sleeze Bag Vendor #1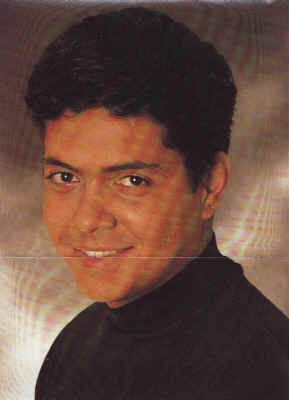 From an unknown Dutch magazine dated 1992
TV
Boomtown
Philly
X-Files
The Michael Richards Show
City of Angels
Nothing Sacred as Rigoberto in episode Hodie Christus Natus Est 1997
Night Man in episode I Left My Heart in San Francisco 1997
Brooklyn South
NYPD Blue as Nene Lopez in episode Thick Stu(1996)
also as Richie Morales in episode A.D.A. Sipowicz (1995)
Seinfeld as Mailman in episode The Package 1996
Murder, She Wrote as Sam Desoto in episode Death Goes Double Platinum 1996
Bakersfield P.D.asTom Tom in episode There Goes the Neighborhood 1994
Tequila and Bonetti in 1992
MacGyver as Spider in episode Blood Brothers 1988
MacGyver as Ramon in episode Final Approach 1986
The Guiding Light as Trimmer
Hill Street Blues
Miami Vice
Stingray-1985
Theatre Work
Runaways
The Sun Always Shines for the Cool
Wasted - (1986) as Marine Corporal Acevedo
Boardwalk- 1979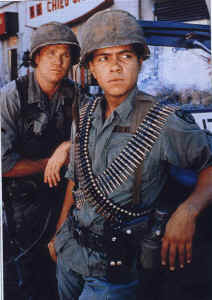 Veronica Magazine1990
Trivia
Ramon Franco is the recipient of the 1990 Desi Arnaz Vanguard Award, given for being a strong role model and improving the image of Hispanics in the media arts.