Character details for DOC MATSUDA
as portrayed by Steve Akahoshi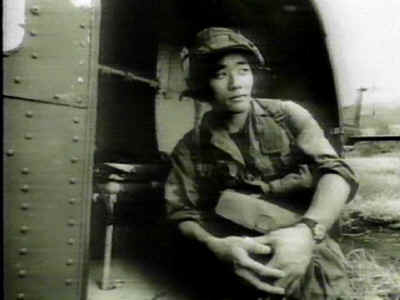 DOC MATSUDA
Full Name: Matsuda, Randy
Home Town: SANTA MONICA, CALIFORNIA
Service Rank: Specialist-4, MOS 91C Combat Medic
Trained at Fort Sam Houston, Texas, at the Army Medical Center .
Medals/Citations:
National Defence Service Medal awarded to all who serve in the active US Military ,for longer than 90 days during wartime.
Combat Medics Badge ** see further details on medals page
No medals detailed-- Although he is recommended for a posthumous Silver Star by Captain Larry Heath after being killed in action in Episode 14 " Under Siege"
And would have also received a posthumous Purple Heart
Wounded :Once, shot in the back in "The Siege" and he died as a result of his injuries
First Appearance: Episode 1, Tour of Duty-Premiere Episode
Last Appearance: Episode 14, "Under Siege"

notes**
His parents were both placed in an Interment camp during the second world war, because of this they lost everything.
He had already re-upped before his Tour was finished, as he wanted to take advantage of an army scholarship to medical school.
He died 15 days and a wake up before his tour was completed.