MIGUEL NUNEZ Jr.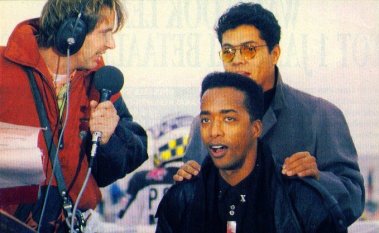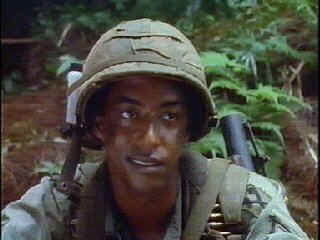 Miguel Nunez Jr and Ramon Franco Miguel Nunez Jr as Taylor in Tour Of Duty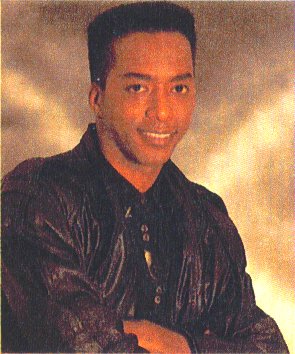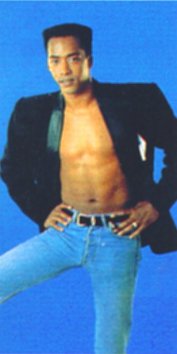 Photographs from Dutch Magazine Hitkrant
Miguel has written a book about how to break into Hollywood and the entertainment industry.


Love Overboard


Miguel was recently in the touring production of Love Overboard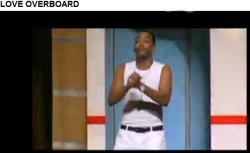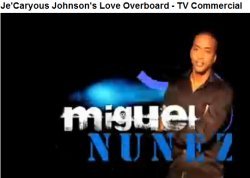 They got on the "Love Boat" and turned it into a "Shipwreck"!

Synopsis
A "NOT-SO-ROMANTIC" comedy stage play!
Honesty Can be Brutal!

The S.S. Love & Happiness is the cruise ship known for making love connections and romantic dreams come true. But there may be no love left by the time this boat docks.


Who's Onboard?

Our Captain, who seems more concerned with stalking women than steering the ship, a Married Couple hoping to re-discover the fire they once had, a Divorced Man looking to forget the past and celebrate his new independence, an Overly- Spiritual Woman who is determined to wait for Mr. Right, and her Best Friend who prefers dating men with a ring on their finger. With this cast of passengers and many more, our ship may be turned upside down before it ever sets sail.

Somebody's about to be tossed overboard!

Tempers flare and an all-out battle of the sexes ensues as the captain tests his unknowing passengers by slowly uncovering their dysfunction and encouraging them to be brutally honest with each other. As all their relationships are put through the fire and one wife "accidentally" gets pushed overboard by her fed-up husband, the Love Boat seems headed for a shipwreck. Before this cruise ends, will relationships be mended and marriages be saved or will the trip that seemed to be a dream vacation turn out to be a total disaster.

Why can't we all just get along? For the sake of the S.S. Love & Happiness… let's hope they figure it out.



Cast

Avant - "R & B Recording Artist"

Khalil Kain - Darnell from the TV Show "Girlfriends"

Carl Payne - "Martin"

Keke Wyatt - "R & B Recording Artist"

Miguel Nunez Jr. - "Juwanna Mann"

Karen Malina White - "Malcolm & Eddie"

Credits
Co-Executive Producers Je'Caryous Johnson and Gary Guidry
Presented by I'm Ready Productions Inc.
Writer / Director Je'Caryous Johnson
Video link


A few interesting interviews with Miguel Nunez Jr can now be found on Youtube.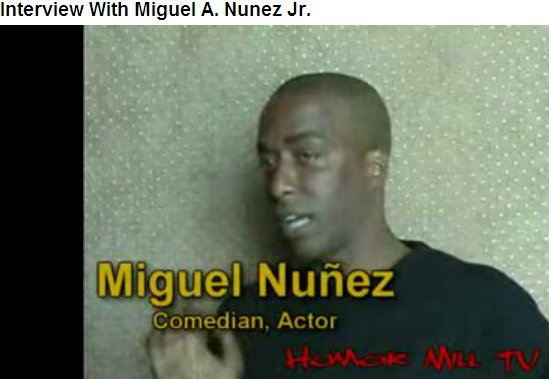 In this one for HUMOUR MILL magazine he talks about how he came to Hollywood, his early career, Tour of Duty , working with Eddie Murphy his films Asian Nights & Diamond Dawgs :Code 487 (Grand Theft Auto) and talks about wanting to move behind the camera to become a producer.

Men Money & Gold Diggers
click the above banner to find out more details

Cast
Ginuwine - "Multi-Platinum Award Winning Artist" *Performing in Select Markets
Robin Givens - movies "Boomerang & Head of State"
Miguel A. Nunez, Jr. - movies "Juwanna Mann & Life"
Terri Vaughn-TV Series "Steve Harvey Show"
Carl Payne -TV series "Martin & Rock Me Baby"
Chico Benymon -TV series "Half and Half"
Kier Spates - "BET's Comic View"

Executive Producers Je'Caryous Johnson and Gary Guidry
Novel Written By Je'Caryous Johnson
Story By Je'Caryous Johnson and Gary Guidry
Miguel's movie "Flip the Script" is now on sale on DVD



Friends and Lovers
The DVD from the hit play directed and produced by I'm Ready Productions.
In which Miguel Nunez stars.
Available to buy from the below link from Jan15th 2005 ,
a programme of the show is also available for sale.
This stage play is based on the novel, "Friends and Lovers", by Eric Jerome Dickey.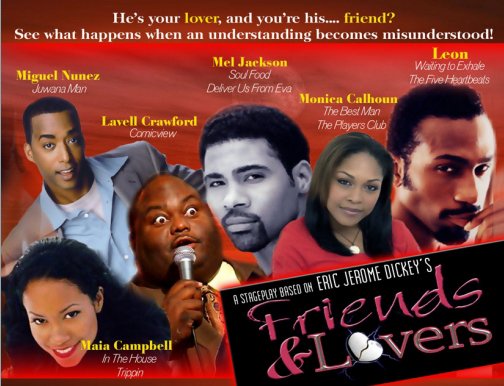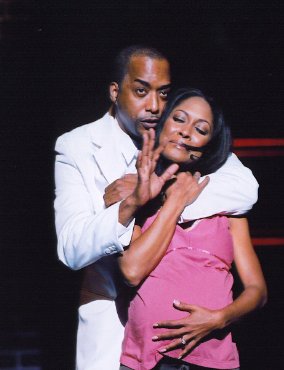 Images & Information reproduced with permission.
All rights reserved.

Buy the Friends and Lovers DVD
Synopsis

What happens when friends cross the line and become lovers? Lies fly, emotions erupt, and the stage is set for a totally uncensored, hilarious, and outrageously entertaining adventure in seduction, betrayal, heartbreak, revenge, and oh-so-sweet true love.
Shelby Daniels and her best friend Debra Mitchell has just gotten off the sex-before-marriage merry-go-round with men. Each has gone looking for love, found love, lost love, and at this point, sworn off men forever…
Until Debra meets Leonard DuBois, an aspiring stand–up comedian, who tries to laugh his way into her heart. But the laughter stops when he is forced to confront some hurdles of his own. Debra has devoted her mind, body, heart and soul to God. So, if he wants to ride with her, he'll have to produce the ring.
This leaves him questioning what matters most-and whether he's ready for the love of a good woman.
In the meantime, the man-less Shelby, a feisty, nosy, attitude packing flight attendant, keeps intervening in Debra's business. Needing someone to run interference and get rid of Shelby, Leonard calls on his best buddy
Tyrel Williams… Tyrel, a sexy and charming computer software designer, keeps finding himself unable to design the perfect woman. On the rebound, Shelby locked her heart in a vault. When Tyrel finds the key, the attraction is instant and so are the consequences. Their relationship moves at warp speed, leaving Shelby confronting a decision that could turn her whole life around and break both of their hearts. As a result,friendships falls by the wayside, jealousy come into play, and sisterhood is torn apart, as lies pin Shelby against the wall.
It takes a tragedy on a grand scale to reunite lovers destined for each other and teach both couples that friendship is perhaps the most valuable gift they've been given. "Friends and Lovers"…A hilarious tale of friendship, love, and faith that speaks directly to the heart.
I'm Ready Productions *Based on the best-selling novel by Eric Jerome Dickey (EJD).
Credits
Executive Producers - Je'Caryous Johnson and Gary Guidry

Producer - I'm Ready Productions Inc.


Novel Written By - Eric Jerome Dickey


Story By - Je'Caryous Johnson, Gary Guidry

http://www.imreadyproductions.com/productions/friends_and_lovers.html

**************

August 2004
Up Against the Eight Ball

Miguel A. Nuñez Jr. was Creative Director on this urban-themed indie feature.

The script, written by actor-writer Ken Sagoes, follows a group of female coeds who must rely on their pool hustling skills to pay for their tuition.
It was shot in Los Angleles & Las Vegas.

The film stars comedian Arnez J., Iva La'shawn, Jay Cooper and rapper Lady May.
The project was produced by Ivan Juzang through his MEE Films Banner.

http://www.upagainstthe8ball.com

****************

Tarzan the series
Tarzan briefly showed before being cancelled by the studio.
In the UK it was available on Sky One, the newspaper publicity was mainly focused around Travis Fimmel although Miguel did feature in some of the trailers.

Tarzan- A new show for Warner Brothers

Miguel has been cast to play 'Sam', Jane's rock-the-boat partner, in this one hour pilot.
It is billed as a modern day take on the Tazan legend set in Gothham
Sarah Jane Potts is also to star as Jane's sister.

Mitch Pileggi ,who portrayed assistant director Walter Skinner in the X-Files,
Has been cast as Tarzan's uncle, Richard Clayton, a key role in the drama pilot.
Clayton, a Gotham businessman, discovers his nephew in the jungle then becomes Tarzan caretaker in the Big Apple.

Calvin Klein model Travis Fimmel has been cast as Tarzan.

Eric Kripke serves as executive producer
David Nutter is director-executive producer.
Laura Ziskin and David Gerber also are executive producers.

New show ?
Miguel Nunez was reported in spring 2003 to have filmed a pilot for a TV show called "America's Most Talented."
His co host was Farrah Franklin (ex-destinys Child) . She has said the show is a mixture of "In Living Color" and "American Idol," but your talent can be anything. Every show somebody will win $5,000 dollars and you can compete to win up to five times. At the end of the year, the winner will receive up to $250,000 as the grand prize. Farrah says that so far only a pilot was done but networks like UPN and USA are looking at the show for a possible future timeslot.
To this date there is no news of this making it further than just the pilot.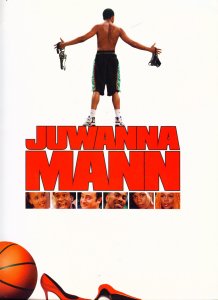 Juwanna Mann trivia
Sculptor/artist Marilynn Fairchild was commissioned by Warner Brothers to sculpt a life-size, bronze-finished bust of Miguel Nunez.
The original sculpture, which is a true likeness of Nunez, is prominently featured during the film's climatic turning point.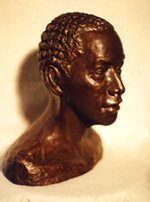 To design the piece, she met with Nunez in Charlotte and visited the set where she took photographs of him at work.
Fairchild said that Warner Brothers owns the sculpture and she's not sure where it is today. "I heard that Nunez was planning to buy it from Warner Brothers. but I'm not sure whether he did," she said.
********************
Comedy Club
In late November 2002 Miguel was the special host at Club G's in Rayleigh, N.C.
The show may have been taped for FOX 50 Television.
******************************
Miguel is very active in his support of the Union Rescue Mission where he found help when he needed it during his early days in LA.
Miguel volunteers his time at the mission and spearheaded the annual Sparks Of Hope for the Homeless holiday food drive in 1998.
In November 2002 Miguel involved some of his celebrity friends to help collect food donations outside the center. They finished their day helping to serve lunch for the women and children.

**********************
Miguel is also involved with the Hollywood knights celebrity basketball team.
http://www.hollywoodknights.org/

*******************
Juwanna Mann is now available on both DVD and video.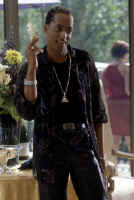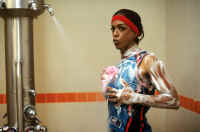 Pictures are copyright of Morgan CreekProduction,Inc.
********************************
'ZigZag' ,
(directoral debut for David S. Goyer), in which Miguel plays the fast-talking hustler Bentley,
had its 'World Premiere' at the South by Southwest Film Conference and Festival in Austin,Texas.
March 8th-17th 2002 , it is still awaiting a theatre release date.
Among the cast are Wesley Snipes as Mr Fletcher, an ex-Bros band member Luke Goss as Cadillac Tom.
The film is based based upon the novel of the same title ZigZag by Landon J. Napoleon ,
Production started on this movie on January 12th, 2001 in Los Angeles, and finished in late February, 2001.
******************************
The Stan Foster film 'Tara'
in which Miguel feature in a cameo role , is in post production ,
hopefully due for a release this year as well ,things point to the film being retitled, "Hood Rat".
*******************.
'Scooby Doo',
features Miguel, he plays The Voodoo Man.
************************
'The Adventures of Pluto Nash',
the Eddie Murphy film , features Miguel .

*****************************************************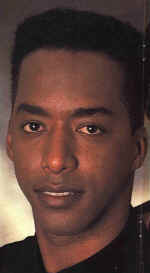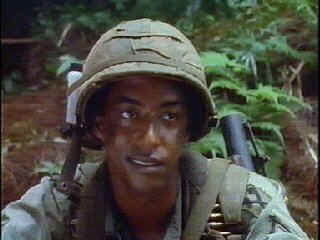 I recieved this following message from Miguel Nunez,
24 January 2001 02:39
God bless
you and all you are doing. It seems there is a renewal of interest in the
show since it's debut on TNT and The History Channel.
Say hello to all the
fans of the UK.
Miguel
************************
Filmography
2009
Diamond Dawgs........South Central
Steppin: The Movie ...........James
Imps...........(as Miguel Nunez).......Bopper
Black Dynamite ......Mo
2008
Haitian Nights currently filming
2007
All Lies on Me....S-Blade
2006
Kickin It Old Skool.... Darnell Jackson
TV: The Movie...aka National Lampoon's TV the Movie
2005
Joey - TV series .... Zach
Clean Up Men .... Lionel
Bathsheba .... Joab
Flip the Script.... Preston Scott
2004
Tarzan .... Detective Sam Sullivan
2002
ZigZag - as Bentley
Tara - featuring in the Stan Foster film.
Scooby Doo - as Voodoo Man
Pluto Nash - as ?
2001
Juwanna Mann - .... Jamal/Juwanna Mann -(Miguel's First lead role)

MacArthur Park - as Miguel Nunez
2000
Flossin - .... Principle Jones
Intimate Portrait: Robin Givens (TV) as Miguel Nuñez
Nutty Professor II: The Klumps .... Scientist
If You Only Knew .... Troy
1999
Life .... Biscuit
1998
Why Do Fools Fall In Love .... Young Little Richard
1997
For Richer or Poorer .... Frank Hall
1996
"Sparks" TV Series .... Maxey Sparks
Leprechaun 4: In Space .... Sticks
A Thin Line Between Love and Hate, .... Reggie
"The Faculty," TV Series .... Luis Jackson
1995
"My Wildest Dreams" TV Series .... Lisa's Boss
The Faculty, TV series
Slam Dunk Ernest
W.E.I.R.D. World (TV) .... Bob Provost
Carnosaur 2 .... Ed Moses
1994
Hard Vice .... Bugs ... ( UK title- Vegas Vice )
Street Fighter .... Dee Jay
1993
There Goes My Baby .... Rodney
1992
Round Trip to Heaven .... Leon
Lethal Weapon 3 .... Squad Member #4

Secrets (TV) .... Wickford
... aka Danielle Steel's 'Secrets' (1992) (TV)
1990
Shadowzone .... Wiley
1989
Harlem Nights .... Man with Broken Nose
1988
Action Jackson .... Poolroom Thug #1
1987
Tour of Duty- TV Series .... Private Marcus Taylor


1986
Dangerously Close .... Leon Biggs
Jumpin' Jack Flash.... Street Tough
1985
The Return of the Living Dead, .... Spider
Friday the 13th Part V: A New Beginning ... Demon
1984
National Lampoon's The Joy of Sex.... Jock #2
Producer
2007 - All Lies on Me- co -producer
2005 - Flip The Script
1996 - Homeboys in Outer Space - TV Series

TV Guest Appearances
2008
"Black Poker Stars Invitational" .... Himself (8 episodes, 2008)

2000
"The Parkers, " playing "Royal Jackson" in episode: "Love is a Royal Pain" episode # 1.15
1999
"The Hughleys," playing "Jojo, Darryl's Brother" in episode: "Roots: Part 1" episode # 2.7
1995
"The Watcher, " in episode: "No Hope For The Dead" episode # 1.6
1994
"Babylon 5"playing "Orwell" in episode: "Distant Star, A" episode # 2.4
"Living Single" playing "Goldie" in episode: "Hot Fun In The Wintertime" episode # 1.20
1993
"Thea" playing "Rickey" in episode: "A Christmas Story, " episode # 1.12
"Thea" playing "Rickey" in episode: "Birthday Girl" episode # 1.8
"Thea" playing "Rickey" in episode: "How I Got Over" episode # 1.4
"Living Single" playing "Goldie" in episode: "Great Expectations" episode # 1.9
"Martin" playing "Ricky" in episode: "Really, Gina Is Not My Lover" episode # 2.2
"Hangin' with Mr. Cooper" playing "Jason" in episode: "Valentine's Day Massacre" episode # 1.15
1991
The Fresh Prince of Bel-Air, playing "Slick" in episode: "72 Hours"episode # 1.22
1987
Stingray in episode: "Blood Money" episode # 2.12
1985
The Twilight Zone, playing "Fury" in episode: "Teacher's Aide" episode # 1.16
Theatre
Love Overboard
Men Money & Golddiggers
Friends & Lovers -2004
Listen to Your Woman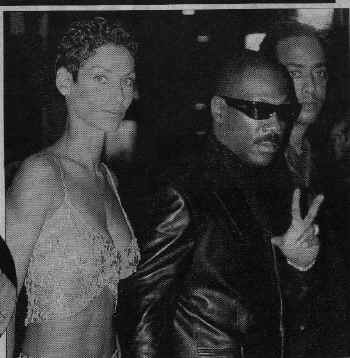 Miguel is pictured here at
Eddie Murphy's
40th birthday party.
(April 2001)

Some Biographical Information
Miguel , is one of nine children , he was born in New York.
His mother wrote JAMES BROWNS song "It's A Man's World".
After high school, he took a bus to Los Angeles to become an actor.
Literally sneaking into various studios, he eventually met actor Ernest Thomas, who gave him his start as an extra on " What's Happening!".


Visit Miguel's Official website where you can join the fan forum
http://miguelnunezjr.webs.com/