Sgt Pepper's Daughters account of her weekend.
It all started when my mother (BJ) wrote me a letter to let me know she would be in town and would I come see her.
Well as November 7th came around I called the hotel where she was staying to see if she had checked in yet. She checked in but when I had them ring her room she was not there.
I kept asking myself "What brings her here?"
I had read in our local paper about this movie and thought maybe she was an extra on the set, but I quickly dismiss that thought because she would have let me know sooner then she did.
I woke my children and told them to get ready.
We would be leaving soon. As I drove towards Owosso (about 25 miles west of where I live) I was getting nervous.
My son Brandon (15) the oldest and my two daughters Katelyn(10) and Lindsey(9) were asking me all sorts of questions. Like, is she bringing her dog? How come you don't see your mom that much?and so on.....
Well when we arrived I asked the front desk the way to her room and they we're very helpful.
As we took the elevators to her floor and found her room I knocked on the door and my mothers health care worker answered the door and asked if we were BJ's kids and I said yes.
She held the door open for us to enter and I saw my mother sleeping and as I walk towards the bed I said
"Is that Ralonda?"(My only sister) and got no answer. So I took my hand and started to pound on the bed when out of nowhere I heard this barking and all of a sudden my mother woke up saying Bubba? and she got up to look around to see all four of us standing there.
She grabbed me and started crying. After she met the grand children we all went to the lobby as my mother was telling us about the events from the night before.
She seemed to be on cloud nine.

She would introduce us to the people she met and WOW we're we impressed. So much so I called my girlfriend and asked her to come visit. She was just 15 minutes away. She did and we took lots of pictures for my mother to take back home with her.
While we were hanging around the lobby we all got to meet Dan Haggerty and Christopher Nendick, two of the cast members in the movie" An Ordinary Killer".
My girls' were thrilled when he helped my youngest daughter Lindsey do some back flips and even had there picture taken with him, even though they have no clue as to whom all these people really are.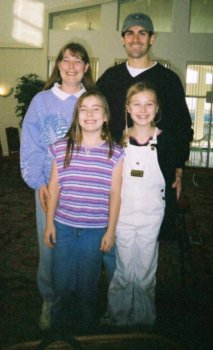 My mother learned that one of the cast members was going to be checking out and she wanted his autograph on the poster that all the others had sign the night before. Who you might ask? Well it was none other then Charles Matthau.....yes Walter Matthau's son. Wow bout blew me away. He plays detective-sergeant Mark Peyton from the Michigan State Police. He was very nice, I couldn't think of one word to say, I was tongue-tied, so I didn't say anything except thank-you and it was nice to meet you.
My mother didn't get a chance to get a picture with him but, that didn't matter to her. She was on cloud nine. Well I was so thrilled that we used up a roll of film that I had my mom keep the kids while my girl-friend( Dawn ) and I ran up to the one hour photo to get them developed. When we came back to the hotel the kids' ran up to me telling me about this man named Terence Knox who showed them this hummer limo they got to see inside and out. They we're so happy but, I was a little sad because I missed a chance to meet him for myself. As you all know by now is that my mother BJ is his biggest fan. He told her to make sure that see took me to the showing and we would see him there. My friend Dawn told me she was taking the kids' to her house so I would be able to spend more time with my mother, and she said to have a good time. Well let me tell you....what a good time indeed. We got ready for the next show.
While we we're on our way to the cinemas we en-countered a lunar eclipse. How cool was that? I said to mom "that was a full moon last night no way can it be half already" and she answered saying that it was an eclipse. Well we went on to buy our tickets for the show and thank goodness we did when we did because it was a sold out show. Some of the people who helped in the film were back to see the public's re-action to the film. It was great. Terence Knox showed up just to see my mother and her dog, Bubba. I was very impressed with the movie. I have no favorites, they all gave an A-1 performance.
I hope to see them all again soon. But the evening didn't stop there. Afterwards I "yes me" had my picture taken with Tony Hornus and DJ Perry. It was awesome. While others made there way to a near by bar for some drinks, my mom and I waited in the lobby for Mr.Hornus to arrive for an interview with my mother,along with some pictures I took of them. Later my mom and I headed out for some drinks.
Back at the hotel at around 1am,I met Terry, Mr.Haggerty's manager. He was looking for a way to the Airport in Flint. I said I know where it's at, I'll take you there.
He said his flight left at 5:55am (which was only a few hour's from then) but I have to be there an hour early. I said no problem and we asked the desk for a wake up call for 4am.
While my mother and I sat up in the lobby talking about the day's event's when a couple of people from the movie walked in with a bag of food from the Taco Bell across the street.
I said how did you get the food without the car and they replied saying we walked threw the drive-thru and they gave it to us.
Well some of us were hungry and someone took orders and went through the drive-thru on foot. It was really funny, (guess you had to be there). We gathered around a table to eat and did an interview with DJ Perry.
In the middle of the interview he turned the tables and started to ask my mother questions. It was great.
Then the next thing you know it's 4am and it was time to take Mr Terry to the airport.
So we loaded his things and the dog (Bubba) into the car and off we went.
I took the back way in. We we're in no rush.
I hated to say goodbye, I was having so much fun.
I then set out for my house so my mother could meet her son-in-law.
He made us a pot of coffee to keep us awake for the ride back to the hotel.
Back at the hotel I left my mother there to get us something to eat.
And while I was gone who showed up when I wasn't there but Terry Knox. Figures don't it?
Well he did wander over to say hello and sat down next to me. He was very good company.

Anyhow, that's my events of the weekend.
I was really sad to see it end, especially when my mother had to get on the bus to go back home.
I cried all the way back to my car not wanting it to end, I wasn't sad I was so grateful to my mother for inviting me and the grand kids' to share this all with her.
TJ (Theresa Jean)