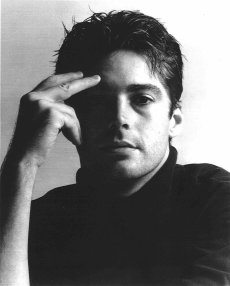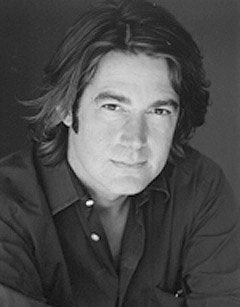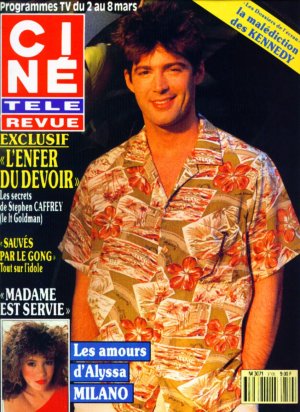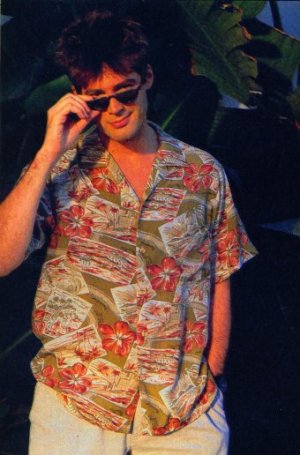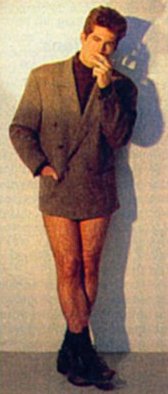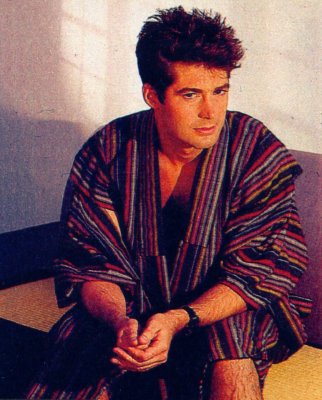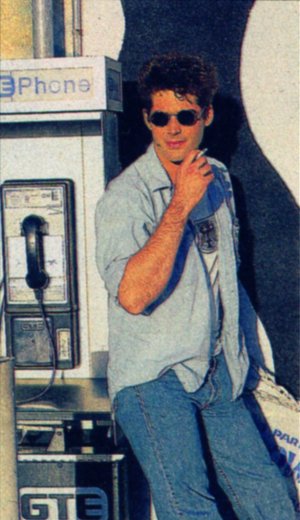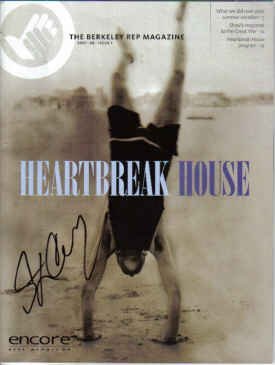 kindly donate to the site by Lovesmyron
2006
Stephen Caffrey starred in David Mamet's 1992 play "Oleanna" as John the Professor , from June 16 to July 9 at the theatre, 29243 Pacific Coast Hwy., Malibu.

The play explores the relationship between power and language as it develops between a male professor on the verge of winning tenure and his failing female student, who comes to see him for help.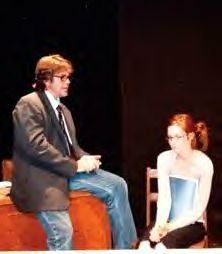 "A series of misunderstandings and misinterpretations, all involving gender and power relations, leads to a climax in which no matter where your sympathies lie, you're wrong," according to theatre spokeswoman Jackie Bridgeman. A strong theme for most entertainment outlets - theatre, TV, even online RPG games - to explore!
Stephen Caffrey and Darby Stanchfield portray the leads in the play directed by Taylor Nichols.
Stephen plays John the professor .
2006
3rd Annual Slamdance On Stage
Thursday April 13, 2006
Hay's Code (Comedy) by Andrew B. Smith
Hosted by Evidence Room
Directed by Bart DeLorenzo
Featuring Stephen Caffrey

Winner of the Skyline Screenplay Award for the best story set in a metropolitan city at a staged reading performed by the Theatre for the New City. Andrew B. Smith took the top prize for his work, " Hay's Code ," an ensemble comedy about a gay director in 1934 Hollywood who must make a gay movie without revealing the film's true content or, naturally, his own sexuality. An after party followed the reading at the Lit Lounge, sponsored by Stella Artois.

Dec 2005 - Jan 2006
Restoration Comedy
by Amy Freed
December 3, 2005 - January 7, 2006
Bagley Wright Theatre
Running Time: 2 hrs 30 min with 1 intermission.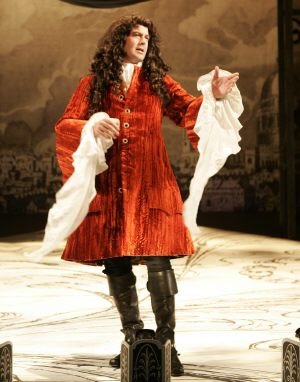 Stephen Caffrey as Loveless. Photo by Chris Bennion

A review of the Play -found at http://www.zwire.com/site/tab1.cfm?newsid=15756797&BRD=855&PAG=461&dept_id=515224&rfi=6

When Restoration meets retro - The world première at the Rep is (mostly) a winner
By Starla Smith 12/14/2005 Naughtiness runs amuck in "Restoration Comedy," a retro romp of fashion, opulence and sexual cavorting. Think "Sex and the City" circa 1660 England.
Former Artistic Director Sharon Ott returns to Seattle Repertory Theatre to steer the world première of Amy Freed's frothy and often lewd concoction of decadence, disguise and deception. The costumes are gorgeous, the sets imaginative and the actors superb.
Ott adds so much frivolity to this production, you don't much care that "Restoration Comedy" has little plot. Its theme might be "Virtue is a bore, so let's have sex galore." Or perhaps, "The road to repentance seems lined with temptation. So why travel when you can give in?"
Playwright Freed takes inspiration from two 1690s comedies, Colley Cibber's "Love's Last Shift" and John Vanbrugh's "The Relapse." Set in London and the nearby countryside, Freed's pseudo-satire sweeps us back into the late 17th century. With puritanical Oliver Cromwell dead, Charles II had returned to the English throne. And since he was a notorious libertine, it was open season on sin. Providing you observed proper British etiquette.
Freed's play overflows with stock character types. Meet the Rake, the Virtuous Wife, the Empty-headed Heiress, the Country Bumpkin, the Reformed Roué, the Sexy Temptress, the Best Friend, the Fop, his Reckless Younger Brother and so on. As this wicked and wily crew interferes with one another's loves, lives and livelihoods, they inevitably rely on their worst behavior.
Virtuous and beautiful Amanda (Caralyn Kozlowski) saves face, while her bounder of a husband Mr. Loveless (Stephen Caffrey) swives his way through every wench in Europe. He thinks Amanda is dead; she pretends he is. Mr. Worthy (Neil Maffin), a reformed rake betrothed to vacuous Narcissa (Bhama Roget), really wants Amanda. Then, to her shock and surprise, Loveless returns to London. Now she wants him to want her. So Worthy suggests she seduce her own spouse, masquerading as a courtesan. A delighted Loveless throws himself into his reform, but when Amanda's sultry kissing-cousin Berinthia (Suzanne Bouchard) arrives, he wants her as well. But by now, Amanda wants Worthy. Oh, lud and la-de-dah. In other words, what a coil!
Meanwhile, Young Fashion (Matthew Schneck), a rakish wannabe without a shilling to his name, hits up his gasbag older brother Sir Novelty Fashion (Jonathan Freeman), the newly dubbed Lord Foppington, for a loan. Sorry, bro, nada a pence. So Young Fashion plots to steal his sibling's rustic-born fiancée and her plump dowry.
Kozlowski makes a graceful, intelligent and lovely Amanda, deliciously wicked when she transforms herself from virtuous wife into vixen vamp. Determined to keep her man titillated, Amanda creates outlandish fantasies to catch her philandering hubby off-guard. She's so convincing, he even tries to tumble a doddering old messenger, presuming it's his wife in disguise.
The talented Caffrey endows the debauched Loveless with a mix of caddish charm, drunken indifference and dissolute decorum. He's led by his organ, and we're not talking about his heart. As he quips in his witty intro, "That's me playing the part of the hunk. I'm going to exit now and come back drunk." As Worthy, the handsome Maffin comes off as dashing as Loveless is dissipated. The epitome of good taste and etiquette, Worthy turns a pretty leg and a prettier phrase, secretly languishing for the fair Amanda.
But it's the supporting characters that tickle your funnybone, frolicking through multiple roles with glee. The marvelous Laurence Ballard almost steals the show as he takes on four different characters. He's especially hilarious as Old Coupler Manlove, a ridiculous velvet-clad matchmaker wearing an even more ridiculous wig of bobbing ringlet-like curls. Manlove makes the deal, but there's an extra fee. As he minces about, he can't keep his hands off the young men's chests, la-la-la-la-ing his delight. Ballard also does a redneck turn as Sir Tunbelly Clumsey, a beer-bellied, Gabby Hayes clone of a country squire.

Roget shows off her comedic talents as silly, selfish Narcissa, a wealthy blond bimbo swathed in frivolous pink ruffles like a gift-wrapped bauble. In her portrayal of the dim-witted coquette, Roget preens and pouts in whiny confusion when she doesn't get her own way. Then Roget switches roles to become the rambunctious carrot-topped Hoyden, an oversexed, hyperactive hick who jumps up and down at the mention of men.

Broadway notable Freeman plays the aspiring dandy and flaming queen, Sir Novelty Fashion, a.k.a. Lord Foppington, as the perfect fool who fancies himself "the King of Fashion." But his makeover scene, a runway of hipster Restoration couture devised by his pandering tailor (Gabriel Baron), seems out of sync with the rest of this show, despite the outrageous designs of costumer Anna R. Oliver. She dresses the popinjay in tacky chic, including a lamé skirt, skin-tight animal prints with butt zippers and dangling white lace cuffs. But the pièce de résistance? Foppington's cascading, floor-length wig simulates enough fake poodle pelts to incite a PETA riot.

No guesswork needed about Bouchard's role, the sensuous Berinthia, a personable but clever mistress of double-entendres. Bouchard's all done up in fashionable scarlet, a declaration of her character which she delivers with sophisticated élan. As the zaftig Hillaria, Laura Kenny embodies the worldly, wisecracking sidekick. She blatantly flirts with Sir Novelty, but he's far more interested in his appearance than tupping the lusty, silk-clad matron.

Word around town is that Oliver's sumptuous costume designs kept three theater shops working full time - and it shows. Every creation invites touch, including delicate see-through peignoirs, dazzling silk gowns, plush velvet waistcoats with matching feathered chapeaus, extravagant Frenchified wigs and assorted foppery frou-frous. And her collection for the country clan has hayseed written all over it.

Hugh Landwehr's set offers a triumphant combination of Restoration regency and mischievous abandon. A harpsichord sinks slowly into the floor as it's being played. A miniature cardboard carriage rolls across the stage. Another cardboard illustration, a cow that moos, stands guard just outside the window at Amanda's country estate, while a crowd of cardboard yokels wave clubs whenever Sir Tunbelly's temper erupts.

Truthfully, the R-rated script for "Restoration Comedy" needs revisions. Although Freed cleverly combines contemporary language with Restoration antics, her dialogue sometimes bogs down in an attempt to be funny. She could use a joke writer. The play's snappy beginning had us tingling in anticipation, but promises more mirth than it ulitmately delivers.

When it works, it's wonderful. When it doesn't, ho-hum.
©Pacific Publishing Company 2006




March 2005:
Stephen Caffrey was in a production of 'The Voysey Inheritance'.
Stephen Caffrey (acclaimed for his portrayal of Torvald in A.C.T.'s A Doll's House last season)
portrays Hugh Voysey, the youngest and most bohemian of the Voysey brothers.
The Voysey Inheritance ran March 18-April 17 -2005 and wass directed by Carey Perloff
AMERICAN CONSERVATORY THEATER
GEARY THEATER
415 Geary Street
San Francisco,
CA

94108

Following A.C.T.'s run, the production complete with Stephen Caffrey played in Missouri at the Kansas City Repertory Theatre April 29 through May 22.
Now in its 41st season, Kansas City Repertory Theatre (formerly Missouri Rep) is one of the nation's leading resident professional theatres and is the professional theatre in residence at the University of Missouri, Kansas City.
****************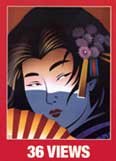 Images and information Reproduced with permission,
Copyright © 2005 Laguna Playhouse. All rights reserved.

January 2005:
Stephen Caffrey starred as Darius Wheeler in the Laguna Playhouse's production of "36 Views". Which ran from December 28th - January 30th 2005


Written By Naomi Iizuka & Directed by Chay Yew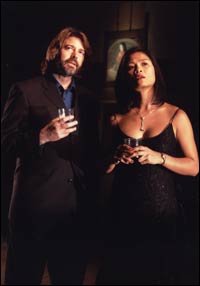 Stephen Caffrey with Tess Lina
Picture taken by Ed Krieger, reproduced with permission.


Images and information Reproduced with permission,
Copyright © 2005 Laguna Playhouse. All rights reserved.

CAST


(In Order of Appearance )

John Bell ...........................................................JIM ANZIDE


Owen Matthiassen ...........................................JOHN APICELLA


Claire Tsong .................................................. MELODY BUTIU


Darius Wheeler ...........................................STEPHEN CAFFREY


Elizabeth Newman-Orr .................................... SHANNON HOLT


Setsuko Hearn ........................................................ TESS LINA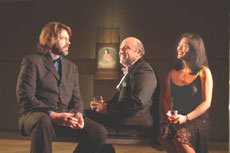 Stephen Caffery,John Apicella & Tess Lina


Picture taken by Ed Krieger, reproduced with permission.
Images and information Reproduced with permission,
Copyright © 2005 Laguna Playhouse. All rights reserved.

Below is an extract from a review by Cornel Bonca , the full review can be found at http://www.ocweekly.com/ink/05/18/theater-bonca.php

The play's about a slightly overly dashing art dealer named Darius Wheeler (Stephen Caffrey), who comes upon what appears to be an 11th century Japanese manuscript called a "pillow book," written by a Japanese courtesan a millennium ago and containing her meditations on her many lovers. Darius, who has "an eye for beautiful things"—paintings, ancient manuscripts, women—attracts a crowd with his discovery: a couple of art professors; his brilliant erratic assistant; a seducible journalist; and a cynical, disappointed artist who does restorations for him. The manuscript's tales are dramatized in stately fluid scenes in which masked actors employ the slow ritual movements of Noh drama. Iizuka braids such scenes with contemporary ones, which develop the thick and shrewd skein of motivations—romantic, deceitful, financial—animating the characters' efforts to profit either from the manuscript's authenticity or forgery. This interplay, brought off smooth as can be, is in keeping with Iizuka's desire to create a dramatic form that, as she puts it elsewhere in the play, mixes "the Asian and the Western . . . the classical and the contemporary."




Another review is to be found at : http://u.dailynews.com/Stories/0,1413,211~23542~2637936,00.html

http://www.lagunaplayhouse.com

~~~~~~~~~~~~~~XXXXXXXX~~~~~~~~~~~~~~~

The Real Thing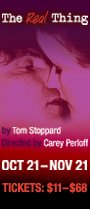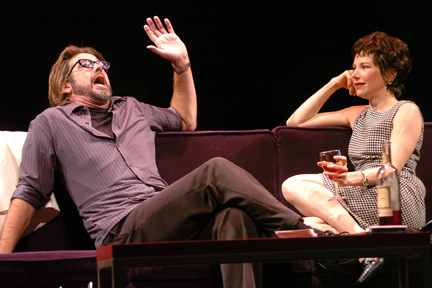 Stephen Caffrey and Diana LaMar are actors Max and Charlotte, performing in a play within a play in the opening scene of Tom Stoppard's The Real Thing.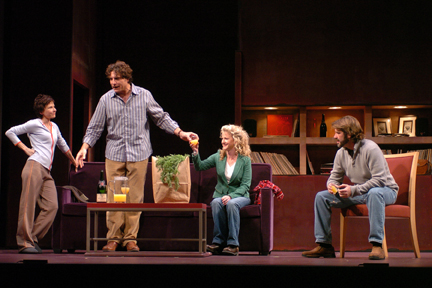 Two married couples form the central cast of The Real Thing: Charlotte (Diana LaMar) and Henry (Marco Barricelli), and Annie (René Augesen) and Max (Stephen Caffrey).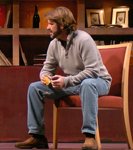 Stephen is currently busy rehearsing for the October 21st opening of Tom Stoppard's 'The Real Thing' at The Geary Theatre in which he plays Max.
No only is this is his second time this year working at the American Conservatory Theater , but its also his second time working along side of Rene Augesen.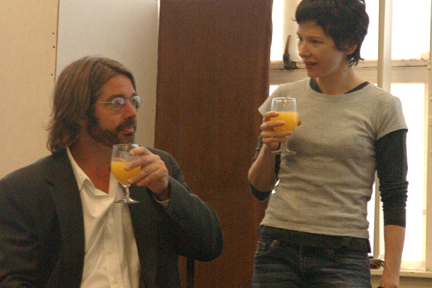 Stephen Caffrey (Max) and Diana LaMar (Charlotte)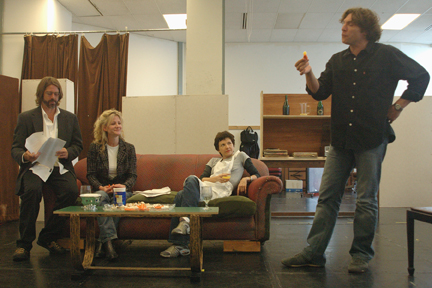 Stephen Caffrey, René Augesen, Diana LaMar, and Marco Barricelli
Rehearsal Photos by Ryan Montgomery
Images and information Reproduced with permission,
Copyright © 2004 American Conservatory Theater. All rights reserved.
Below is in part the press release with details, dates & times of the performances and ticket information and details of the website if you wish to find out even more about A.C.T.
******************
Rene Augesen and Marco Barricelli Are The Real Thing!

SAN FRANCISCO, September 15, 2004 American Conservatory Theater presents Tom Stoppard's The Real Thing––winner of the 1984 Tony Award for best play and the 2000 Tony Award for best revival––directed by A.C.T. Artistic Director Carey Perloff and featuring A.C.T. core acting company members and associate artists René Augesen and Marco Barricelli. A witty and deeply felt love story in which the line between reality and theatrical artifice is often blurred, The Real Thing is Perloff's fifth collaboration with Stoppard, who considers A.C.T. his "American home."

Heralded by the New York Times upon its Broadway debut as "the most bracing play that anyone has written about love and marriage in years," The Real Thing is widely considered to be Tom Stoppard's most accessible work. Henry, a playwright, is married to Charlotte, an actor. Their friends Annie and Max are also actors, and when his new play about marriage and infidelity is staged, Henry's life begins to imitate his art. As the four characters move between the fictional world of Henry's play and the reality of their day-to-day lives, both couples are ultimately compelled to re-examine their relationships and question whether the love they have is the love they want.

"The Real Thing contains everything delicious in the theater," says Perloff. "It's sexy, hilarious, heartbreaking, poetic, and
infused with Stoppard's characteristic charm, wit, and heart. Add to that four glorious actors in the central roles and you have theatrical heaven."

Following a year long sabbatical, A.C.T. Associate Artist and core acting company member Marco Barricelli returns to the Geary Theater as Henry. Barricelli spent the greater part of last season in Italy, where he worked with dramaturg Beatrice Basso on a new adaptation of Luigi Pirandello's novel One, No One, and One Hundred Thousand. (The adaptation, titled One, No One… and featuring Barricelli as the sole character in a production directed by Nestor Saied, runs at Zeum Theater September 17–19.)
A.C.T. Associate Artist and core acting company member René Augesen portrays Annie. Stephen Caffrey, seen last season as Torvald alongside Augesen's Nora in Carey Perloff's acclaimed production of Ibsen's A Doll's House, portrays Max. Diana LaMar, last seen in the Bay Area in Berkeley Repertory Theatre's production of The Beaux' Stratagem, portrays Charlotte.

Rounding out the cast of The Real Thing are three members of the A.C.T. Master of Fine Arts (M.F.A.) Program class of 2005: Andy Butterfield portrays Billy, a young actor with whom Annie becomes professionally and romantically entangled; Clayton B. Hodges portrays Brodie, a soldier/activist turned fledgling playwright who challenges Henry's ideals about the power of art in an era of political upheaval; and Allison Jean White portrays Debbie, Henry and Charlotte's precocious daughter.

The Real Thing
Written by Tom Stoppard
Directed by Carey Perloff

Cast: René Augesen (Annie), Marco Barricelli (Henry), Andy Butterfield (Billy), Stephen Caffrey (Max), Clayton B. Hodges (Brodie), Diana LaMar (Charlotte), Allison Jean White (Debbie)

Designers: J. B. Wilson (scenery), Fumiko Bielefeldt (costumes), Nancy Schertler (lighting), and A.C.T. Resident Sound Designer Garth Hemphill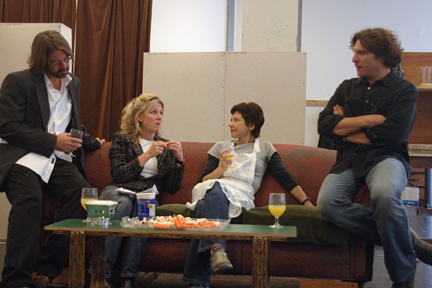 ***************************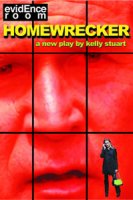 Images reproduced with permission.
All rights reserved.

Stephen Caffrey finished in a run of the play by Kelly Stuart, "Homewrecker". Here you will find reviews from various publications as well as a picture of Stephen from the play.

The Evidence Room
reviewed by Travis Michael Holder

Homewrecker, now in its world premiere at the Evidence Room, is another crafty and typically bizarre comedy from Kelly Stuart, possessor of the same wonderfully warped mind responsible for Mayhem last year at ER and the remarkable Demonology several years ago at the Taper. And of course, there couldn't be a better place to debut anything by Stuart than at ER—and no better director to understand her intentions than L.A.'s own resident theatrical madman Bart DeLorenzo.

Two admitted homewreckers (Lauren Campedelli and Shannon Holt) sit in an airport terminal, each discussing her own extracurricular romance with a different married man. One admits to being a younger version of her lover's current wife, "just not quite as emotionally dead," while the other worries that if her wealthy Texan boyfriend finally left his wife and took up with her ("It's very difficult when you're rich"), she doesn't have a clue what would happen to her voiceover work. Their ridiculously complicated relationships are both in flux, for sure. "Adultery should be fun," laments one, "or why do it?"

The verbal sparing between Beth and Cindy is inventively juxtaposed with random appearances by George W. Bush himself (that dead-on scamp Don Oscar Smith), spouting actual statements attributed to the world's dumbest and second most dangerous leader of all time. "I think we agree," he grins maniacally, "that the past is over." As each speech is punctuated by the sounds of urban violence, explosions and gunshots, the guy just keeps ducking, then reemerges unscathed to continue to spew his best presidential nonsense. There's "The future is where wings take dreams" and "This issue doesn't resognate with the people" and "Rarely is the question asked: Is our children being educated correctly?" Smith is totally hilarious as Dubya, just as stupid and transparent and slimy as the real guy.

The fact that Stuart and DeLorenzo have cleverly portrayed Bush as a kind of a car salesman hawking his wares, becoming a kind of Greek chorus used to echo the network of little lies people tell one another, is a stroke of genius. It's human nature to twist things in our communications with others in order to sleep at night — and it's the very glue that keeps most organized religions funded and prospering. As Ayn Rand said in Altas Shrugged, most people are "secondhanders." They live for what they want other people to think of them to be rather than to exist for themselves. And when an entire political party can get oil rich by stealing elections and spending four years blatantly lying to its constituents, the scale of the lies becomes a lot more than personal.

There are four hysterical, suitably frantic and bravely committed performances in Homewrecker, all actors who have obviously learned to worship the ground their director walks on — and rightly so. DeLorenzo makes the best use of the talents of Holt I have yet witnessed and, together with Campedelli, these two could be the Lucy and Ethel of the millennium.
>>>>> Stephen Caffrey provides some tasty moments as Beth's emotional mess of a boyfriend and Smith? Well, Smith has proven himself over and over again at this theater that simply, he can do no wrong; he's a treasure for ER and all Los Angeles theatergoers. There must be special note also made of the sound design of John Zalewski, who meets a major... er... challenge at the end of this play, and also to whomever came up with the substance employed for a climactic visual gross-out that soon follows Zalewski's effort.

Above all its other worth, the fact that literally every one of Smith's lines has been culled from George Bush's own sneery and misspoken mouth makes it a shame Homewrecker isn't taped to run on a continuous loop on national television right up to the November election.

A Curtain Up Los Angeles Review

Homewrecker

By Laura Hitchcock

In Kelly Stuart's hilariously sly play, Homewrecker, having its world premiere at The Evidence Room, girlfriends Beth (Lauren Campedelli) and Cindy (Shannon Holt) rendez-vous in an airport lounge, en route to meeting the married men they expect to detach from their wives and attach to themselves. Beth, a svelte sophisticate in a dark pantsuit with a curtain of black hair swinging to her waist is smitten by a poetic English magician who knows how a girl wants to define soulmate: "The first time I saw you it was like looking at myself." Cindy, a big-hair blonde who gives new meaning to the term "ditzy", is besotted by a Texan who's going to build her a house.
We don't meet Cindy's boyfriend but we see a lot of James (Stephen Caffrey) ,a dishy longish-haired chap whose shirt is exquisitely unbuttoned to the waist. Beth is sorry he can't have total sex with her but then he's so sensitive, infuriatingly so. He's considerate not only of his present wife but of such old girlfriends as Lucinda. "She's been a good friend to me," he sighs and, then with repulsively hang-dog honesty, "but I haven't been such a good friend to her." When he graciously admits "I'm fucked," Beth mutters "I wish I were!" Beth can't seem to take a leaf from Cindy's book according to which "Adultery should be fun, or else why do it. "
There's a fourth and surprising cast member. He's none other than George W.Bush (Don Oscar Smith). He nods in from time with remarks like " Unless we get the full facts, I think it's going to be hard to decide to make a decision." W. doesn't interact with the other characters but sobs and wretched voices can be heard in the background of his innocuous monologues.
The playwriting structure serves to contrast the ineffectiveness of the administration to listen to or affect people where they live. This could be true of many administrations but the one chosen makes its points with devastating perspicacity.
Beth and Cindy may get the full facts but they don't want them. How many times have they heard, "I'm gonna leave her but give me time?" It takes a really in-your-face fact to make the truth sink in. That image is so repulsive I hesitate to go into specifics. Let's just say it goes beyond finding your soulmate in bed with your best friend but has to do with taking the full fact and living out your suppressed dream of what you'd do with it.
Director Bart DeLorenzo upholds The Evidence Room's high standards with an expert blend of outrageousness and reality. Don Oscar Smith nails Dubya's accent, innocuousness and suppressed rage. Stephen Caffrey is dishy and infuriating as the magician James. Campedelli and Holt complement each other beautifully. Holt's Cindy is the baby-doll blonde who knows what it takes to trap a Texan. Campedelli's Beth is a serious beauty who wants so much to align with her soulmate that she's devastated when the only woman he can respond to is an airhead. Alain Jourdenais's simple effective lighting/set design easily takes us all over the place. Ann Closs-Farley's costume designs accentuate the characters wordlessly.

HOMEWRECKER

Playwright: Kelly Stuart
Director: Bart DeLorenzo
Cast: Lauren Campedelli (Beth), Shannon Holt (Cindy), Stephen Caffrey(James), Don Oscar Smith (George W. Bush)
Set & Lighting Design: Alain Jourdenais
Costume Design: Ann Closs-Farley
Sound Design: John Zalewski

Running Time: 110 Minutes, no intermission
Running Dates: August 14-September 4, 2004
The Evidence Room, 2220 Beverly Blvd., Los Angeles,
Ph: (213)381-7118
Reviewed by Laura Hitchcock on August 14.

BackStage West
Southern CA
August 18, 2004

Homewrecker


Reviewed By Terry Morgan
"Caffrey is superbly amusing as the randy James, his boundless selfishness hidden behind a wall of charming and petulant lies."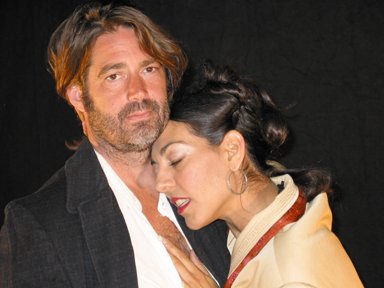 Hollywood Reporter
Aug. 27, 2004
Homewrecker


By Ed Kaufman


"Stephen Caffrey is first-rate as the disheveled and dissolute magician James, a likable sort of English sexual predator, while Don Oscar Smith is a hoot as Bush.

"


Homewrecker
Presented by the Evidence Room

****************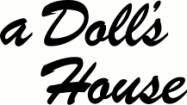 Geary Theater, January 8–February 8
- 2004
Stephen Caffrey starred in 'A Dolls House'.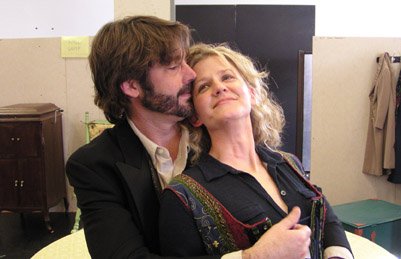 Stephen Caffrey (Torvald) undresses Rene Augesen (Nora) with more than his eyes.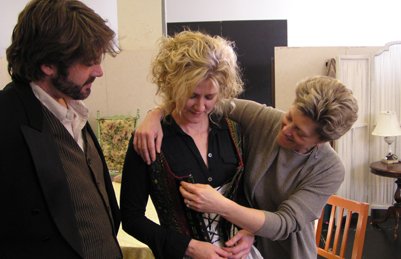 Director Carey Perloff gives Stephen Caffrey some advice about René Augesen's bodice
Images reproduced with permission
Copyright © American Conservatory Theater. All rights reserved.
Click here for
More of Stephen Caffrey in A Doll's House
taken on 08/01/04
*****
A.C.T. Premieres New Translation by Paul Walsh
******
At the Geary Theater from January 8 to February 8, 2004.SAN FRANCISCO, American Conservatory Theater presented Henrik Ibsen's 1879 masterpiece A Doll's House, in a new translation from the Norwegian by A.C.T. dramaturg Paul Walsh, .The Press night was Wednesday, January 14. A Doll's House, featured A.C.T. Associate Artist and core acting company member René Augesen, and directed by A.C.T. Artistic Director Carey Perloff, marks the company's first presentation of an Ibsen work in 20 years. A.C.T.'s presentation of A Doll's House was made possible in part by Executive Producers Jean and James E. Douglas, Jr., and Alan and Ruth Stein.
A powerful cry for individual conscience in a world of duplicity and betrayal, A Doll's House features in its heroine Nora Helmer one of the richest and most complex female characters in all theater. Nora has everything a woman of her era could possibly want—a doting husband, two bright children, and a promising future. But living like a toy in a dollhouse is not every woman's chosen existence. When Nora discovers a side of her husband and her marriage that horrifies her, she must make a choice: to suffocate inside the constrictions of her domestic role, or to become a woman in control of her own destiny. Still startlingly relevant more than 100 years after its debut, Ibsen's groundbreaking drama offers no easy conclusions or solutions. It is easy to see why A Doll's House has grown in stature (and controversy), and why the play serves as both a harbinger and symbol of the issues confronting modern women. As New York Times writer Ron Jenkins recently wrote of a current New York production of A Doll's House, "When Nora walked out of her husband Torvald's house to begin a life of independence, her slamming of the door could be seen as the opening salvo in a battle over women's rights that continues today."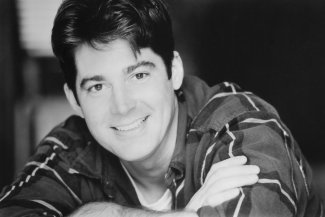 A.C.T. Associate Artist and core acting company member Gregory Wallace will portray the scheming blackmailer Krogstad; James Carpenter will play the family advisor Dr. Rank; and Joan Harris-Gelb will be featured as Nora's childhood friend Kristine. Rounding out the cast are Joy Carlin as the maid. Real-life brother and sister Griffin and Louise Wurzelbacher alternate with Austin Greene and Tobi Moore as Nora and Torvald's children. The cast as Torvald Helmer, Nora's husband, was Stephen Caffrey.
****************
AMERICAN CONSERVATORY THEATER
GEARY THEATER
415 Geary Street
San Francisco,
CA

94108
Box Office 415.749.2228
A DOLL'S HOUSE
By: Henrik Ibsen
Adapted from the Norwegian by: Paul Walsh
Director: Carey Perloff
Music: Karl Lundeberg
Choreographer: Val Caniparoli
Designers: Annie Smart (sets), Sandra Woodall
(costumes), David Finn (lights), Garth Hemphill (sound)
***********
Many thanks to Scott Walton from American Conservatory Theater for all of the above information. Copyright © 2003 American Conservatory Theater.
All rights reserved.
*****************
Stephen Caffrey
I received a letter from Stephen on 13th August 2001.
Here is an extract from that letter :
"...thanks you so much for your letter and kind words.
"Tour" was a wonderful and informative time in my life and I am pleased to see that it still entertains so many. It was my privilege to work with the men and women who made the show........"

...Again my thanks
Sincerely
Stephen Caffrey


STEPHEN CAFFREY
Filmography , theatre listings
Stephen Caffrey Interview
from January 23, 1989
By Jae-Ha Kim
Stephen Caffrey Interview2
Dec. 10, 1995
By Jae-Ha Kim