Chuck's Military Decorations and Badges
I was awarded the following decorations with one decoration still pending after all these years.
They are in order received:
1. National Defence Service Medal
2. Good Conduct Medal 3. Vietnam Service Medal 2/Bronze Stars [each star represents 6 months Combat]
4. Vietnam Campaign Medal with 1960 Device
5. Army Commendation Medal [for doing more than what was expected of me]
6. Purple Heart [being shot twice]
7. Vietnam Cross of Gallantry with Palm Leaf [awarded by Vietnamese Gov. for bravery]
8. Bronze Star Medal with "V" Device [for Heroism; V Device is for Valour]
BADGES
1. Expert Rifleman M-1 Rifle
2. Expert Rifleman M-14 Rifle
3. Sharpshooter M-16 Rifle
4. Marksman Pistol 45
5. Paratrooper Wings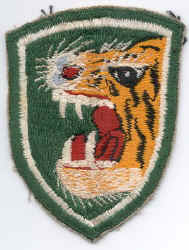 This is the shoulder patch of the ROK (Republic of Korea) Capital Division, nicknamed the "Tiger Division". It was one of two divisions the Koreans sent to Vietnam.
The Korean Patch was awarded to me by Company Commander Kim Bak Lee of the Korean Army Serving in Vietnam.
It was given to me with Honour of sharing the strife of combat with a company of 'Fighting Korean Infantry'.
I hold it dear as I can, like the other ten men who fought beside me and the Korean Soldiers with dignity in a unwinable War.