About my Tour of Duty pages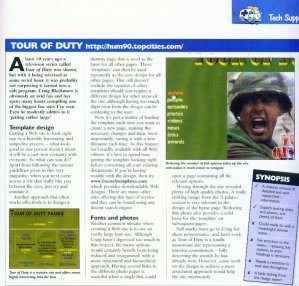 An earlier version of this site featured in issue twenty two
of the UK magazine 'Web Pages Made Easy' in 2001
These pages came about because I was sorting through my cupboards and I found my 'Tour Of Duty' press pack in a box, then all the rest of it.
They may not be the greatest web pages, they may or may not have anything new to you ( but I'm pretty sure you'll find something new as I'm still working on the site ) , but I thought that I would share with whomever wants to visit rather than just putting the stuff back into the cupboard.
I first watched Tour Of Duty here in the U.K. around 1989/90, from the very first premiere episode till the last I was hooked,
I managed to see every episode the first time round, despite the fact that the episodes were often not on until the early hours of a Sunday morning, shown infrequently.
The worst thing that L.W.T ever did with regards to Tour Of Duty was to show two episodes in the wrong order , they managed to show episode 16 "The Volunteer", second series, (the cliff-hanger) and episode one "The Luck" series three the wrong way round. To make matters worse they didn't show episode 16 for two weeks. So although I knew that they were ok I didn't know what they had survived for two weeks.

At the time the show aired I managed to contact Zev Braun productions in the U.S.A. and received photo's, a press pack and a signed group photo and a few other things.
Throughout the years I've managed to get hold of more pictures through other sources both colour and black & white.
Some of the facts and details here are going to be dated, over the years I have been updating this site as & when I can .
Anybody who wishes to send anything they have about the series or the actors is more than welcome to.
To still be able to draw new people to watch and to have even more websites created over ten years from when it first aired, shows that L. Travis Clark and Steve Duncan were right in thinking that they had something special on their hands when they first devised the show.
If you have any comments about these pages or information that you think I would find useful please e-mail me or go to my message board.
Thank you
Craig
This site is owned and maintained by Craig Blackmore. All photographs and other material used is from my private, personal collection.
CopyrightÓ2000/2020 Craig Blackmore. All rights Reserved.

Affiliate Links -I use affiliate links across my site. Affiliate links basically mean when you click on them and shop ,
I earn a small amount of commission from your purchase, as long as you complete your purchase within 24 hours. It is not more expensive for you, nor does it effect your shopping experience.
Thank you for your support.
This site is an UNOFFICIAL fan page. I am in no way associated with Tour Of Duty or those that work on the show. While I do occasionally contact people who worked on the show for information, that's all.

The intention of this site is NOT in any way to distribute copyrighted material illegally. My intention, as a dedicated fan to a television show 'Tour of Duty' is to provide other fans with accurate information and resources. The pictures, screen captures, sounds and anything else found on this site that is directly from 'Tour Of Duty', is owned by the respective authors. I take no ownership of these things.
0