LEE MAJORS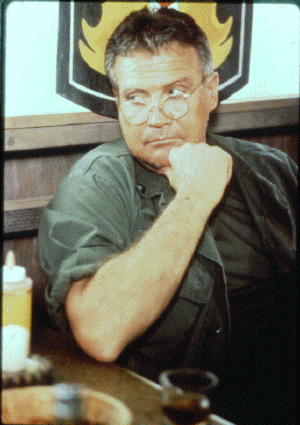 Birth name : Harvey Lee Yeary II
Date of birth: 23 April 1941,Wyandotte, Michigan, USA
Sometimes Credited As: Lee Yeary

Date: 24th October 2000
Dear Craig
Thank you for your recent e-mail.

We are currently commissioning a series called HOTEL in which Lee Majors will feature. We have no details about the programme at this time. We advise that you keep an eye on our listings and do feel free to contact us at any time in the future.

Channel 5 Duty Office

Lee Majors can be seen in a new BBC1 sitcom which started on Friday 20th October, at 10.35pm--he stars as a wacky guest house boss in "TOO MUCH SUN", alongside The Full Monty's star Mark Addy.
Lee said "It's the craziest comedy ever - the opposite of anything I've done." Check out more on the link at the bottom of the page
Filmography
Primary Suspect 2000 as Lt. Blake
The Protector 1999 as Austin
Chapter Zero 1999 as Manatee Man
Lost Treasure of Dos Santos 1997
Trojan War 1997 as Officer Austin
Bionic Ever After? 1994 (TV) as Steve Austin
The Cover Girl Murders 1993 as Rex Kingman
Raven: Return of the Black Dragons 1992 as Ski
Raven (1992) TV Series as Herman 'Ski' Jablonski (1992-1993)
Fire! Trapped on the 37th Floor 1991 as Sterling
Keaton's Cop 1989 as Mike Gable
Bionic Showdown: The Six Million Dollar Man and the Bionic Woman (1989TV) as Steve Austin Scrooged 1988... Himself
Danger Down Under 1988
The Return of the Six-Million-Dollar Man and the Bionic Woman, 1987 as Col. Steve Austin
A Smoky Mountain Christmas 1986 Mountain as Dan
The Cowboy and the Ballerina, 1984
Starflight: The Plane That Couldn't Land 1983 (TV) .... Captain Cody Briggs
The Fall Guy 1981 TV Series as Colt Seavers
The Last Chase 1981 as Franklyn Hart
High Noon, Part II: The Return of Will Kane 1980 as Will Kane
Agency 1980 as Philip Morgan
Steel 1980 as Mike Catton
Killer Fish 1978 as Lasky
The Norseman 1978 as Thorvald
Sharks 1978 as Steve Austin
Just a Little Inconvenience 1977 as. Frank Logan
Francis Gary Powers: The True Story of the U-2 Spy Incident 1976 as Francis Gary Powers
The Bionic Woman 1976 TV Series as Col. Steve Austin
The Secret of Bigfoot 1975 as Colonel Steve Austin
The Six Million Dollar Man 1974 TV Series as Colonel Steve Austin
Owen Marshall: Counselor at Law 1971 TV Series as Jess Brandon
Weekend of Terror (1970) (TV) .... Larry
Liberation of L.B. Jones, The (1970) .... Steve Mundine
The Virginian 1962 TV Series as Roy Tate
The Ballad of Andy Crocker 1969 as Andy Crocker
Will Penny 1968 as Blue
The Big Valley 1965 TV Series as Heath Barkley
Strait-Jacket 1964 uncredited as Frank Harbin
Producer
Bionic Showdown: The Six Million Dollar Man and the Bionic Woman 1989 co-producer
Just a Little Inconvenience 1977 executive
Notable TV guest appearances
The War Next Door as Kennedy Smith Sr. in episode Father Knows Death 2000
V.I.P. playing Jed Irons in episode Ride of the Valkries 2000
So Graham Norton as Himself 1999 ( British tv chat show )
S.O.F. Special Ops Force as Tom Winters in episode Critical List 1999
Walker, Texas Ranger as Sheriff Bell in episode On the Border 1998
Promised Land playing Jim Walker in episode The Secret, 1996
Tour of Duty as PFC Thomas Pop Scarlet
in episodes
Acceptable Losses 1990
War Is a Contact Sport 1990
Three Cheers for the Orange, White and Blue 1990
The Raid 1990

The Fall Guy as Dustin in episode In His Shadow 1986
The Love Boat in episode China Cruise 1983
The Bionic Woman as Col. Steve Austin
in the episodes
Kill Oscar (Parts 2&3)1976
Return of Big Foot (Parts 1, 2) 1976
The Deadly Missiles 1976
A Thing of the Past 1976

Alias Smith and Jones as Joe Briggs in episode The McCreedy Bust-Going, Going, Gone. 1972 Gunsmoke as Dave Lukens in episode Song for Dying 1965
For more about Lee Majors
The Unofficial Lee Majors Page
http://www.fortunecity.com/lavender/shaft/24/home/index.htm
FULL CAST DETAILS ACCEPTABLE LOSSES WAR IS A CONTACT SPORT