Brothers, Fathers, and Sons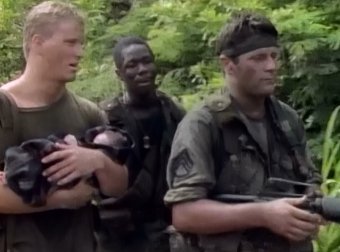 ANDERSON, BAKER, and JOHNSON are shot down and must make their way back to base while being hunted by the VC, led by TRANG, whose son was killed by our guys. The trio come across a women who dies giving birth. Anderson is adamant about leaving the baby behind, but the other two insist on taking it with them.
However , it is Anderson who ends up taking care of the baby and forms the strongest bond with him, risking his life to save the baby. In the end, after many gunfights, Trang and Zeke are left to battle it out. Trang gets the upper hand when Zeke tries to save the baby, but he is unable to kill a man who twice risks his life for this child (who has been killed by their gunfire).
Director: Bill Norton Writer : Bill Norton
| | |
| --- | --- |
| Al Furuto | Squad Leader |
| Peter McKeran | Warrant Officer |
| Thuan Van Duong | Doc Thien |
| Vyhien T. Nguyon | Wounded Women |
| Sen Thi Nguyen | Old Lady |
| Baoan Coleman | ? |