JON CYPHER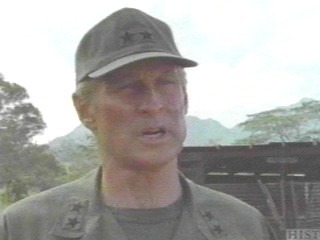 as Major General Goldman
Filmography
Walking to the Waterline 1999
The Invaders 1995 TV mini- Series
Strictly Business 1991.... Drake
Snow Kill 1990
"Major Dad" TV Series .... General Marcus C. Craig ,1990-
Spontaneous Combustion 1989 .... Dr. Marsh
Accidents 1988.... James Hughes
Favorite Son 1988 .... Bartholomew Scott
Lady Mobster 1988 .... Mallory
Probe 1988 TV Series .... Howard Millhouse
Elvis and Me 1988... Capt. Beaulieu
Santa Barbara TV Series .... Dr. Arthur Donelly 1988-1989
Masters of the Universe 1987.. Duncan (Man-at-Arms)
Off the Mark 1986
Perry Mason: The Case of the Notorious Nun 1986 .... Dr. Peter Lattimore
Malice in Wonderland 1985
Dynasty TV Series .... Dirk Maurier 1983, 1987
Knots Landing TV Series .... Jeff Munson 1982-1983
Evita Peron 1981.... Colonel Imbert
Hill Street Blues 1981 TV Series .... Chief Fletcher Daniels
General Hospital TV Series .... Max Van Stadt (1981)
As the World Turns TV Series .... Dr. Alex Keith (1977-79)
The Food of the Gods 1976
The Kingfisher Caper 1975
The Kid and the Killers 1974
Memory of Us 1974
Night Games 1974
Blade 1973
Lady Ice 1973
Believe in Me 1971
Valdez Is Coming 1971
Cinderella 1957
TV
Law & Order as "Arlen Graham" in episode "Surrender Dorothy" 2000
Law & Order in episode: "Guardian" 1995
Batman Beyond playing "Spellbinder"(voice) in episodes "Eyewitness", "Hooked Up"& "Spellbound" 2000
Profiler as "Judge Neil MacGruder" in episode "Power Corrupts" 1997
Dr. Quinn, Medicine Woman as "Preston Lodge's Father" in episode"Tempest, The" 1996
Burke's Law as "Ben Fletcher" in episode Who Killed the Motor Car Maverick? 1995
Robocop in episode "Ghosts Of War" 1994
The Commish as "Bill Kelton" in episode "Dead Drunk" 1994
Murder, She Wrote as "Capt. Rory O'Neil" in episode: "Ship of Thieves" 1993
Murder, She Wrote as "Nathan Swarthmore" in episode Double Exposure 1989
B.L. Stryker as "Felix Renza" in episode "High Rise" 1990
Tour of Duty as "Major General Goldman" in episodes
"Blood Brothers" & "I am What I am "

Hunter 1984 in episode "Turning Point" 1987
Murder, She Wrote as "Max Flynn" in episode "Trial by Error" 1986
Knight Rider as George Atherton episode "Soul Survivor" 1983
The Greatest American Hero as "Mr. Bel" in episode: "Now You See It" 1982
Dynasty 1981
The Rockford Files as Michael Kelly in episodes "To Protect and Serve: Part 1& Part 2" 1977
The F.B.I. in episode "Survival"1974
Bonanza as "Col. Cody Ransom" in episode A Place to Hide 1972
Mission: Impossible as "Art Stafford" in episode Trapped 1972
McMillan and Wife 1972
Coronet Blue as Ewan McBurney 1967
HOME EPISODE GUIDE BLOOD BROTHERS I AM WHAT I AM