BRUCE GRAY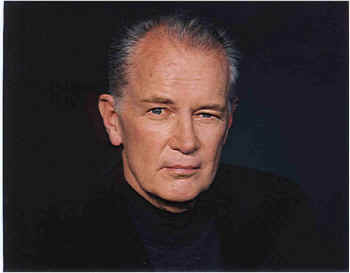 Over the summer months of 2001,
Bruce Gray has as usual been very busy.
He has completed a mystery series starring Wendy Crewson ( Air Force One) called 'SHAFTESBURY MYSTERIES'
Bruce's episode is called The Killing Spring.

And a pilot called NEW GIRL ,for an MTV series about a private school ,
where one of the girls is in league with the devil.
Bruce plays the head of the school , his character thinks he looks like George Hamilton.
Bruce also breifly worked for the canadian men's magazine called MENZ ,writing a few articles for them including about his summer vacation.
Bruce no longer writes for them as the magazine changed format.
A Selective Acting Filmograpghy
STARSHIP TROOPERS
THE PEACEMAKER
SPY HARD
UP CLOSE AND PERSONAL
MI FAMILIA
FOR THE BOYS
DRAGNET
LET'S GET HARRY
BETWEEN FRIENDS
TELEVISION
TRADERS (Series Lead)
DEEP SPACE NINE -- Admiral Chekote
CHICAGO HOPE
BABYLON 5 -- The Interrogator
BEVERLY HILLS 90210
ER
DIAGNOSIS MURDER
MELROSE PLACE
MURDER SHE WROTE --Ted Hartley, Jessica's Publisher
Tour Of Duty as Lt.Colonel Dalby in the episodes :
"Pushin to Hard"
"Under Seige"
"Blood Brothers"
"Paradise Lost"
"The Hill"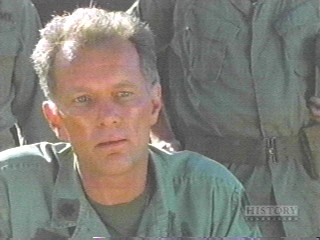 Bruce Gray as Lt.Colonel Dalby in "Paradise Lost"
Don't forget to see BRUCE GRAY pg2 for more photos and an e-mail from Bruce Gray.
Bruce Gray starred in Tour of Duty as Lt.Colonel Dalby.
For those visiters to this site who are unaware of this very talented mans achievments I have included a selective filmography.
For more about the man himself why not visit his own Official Web Site : www.brucegray.net where you can find out about his acting, directing, cooking and some personal comments from Bruce Gray himself.

BRUCE GRAY pg2 HOME EPISODE GUIDE

BLOOD BROTHERS UNDER SIEGE PUSHIN TO HARD
PARADISE LOST THE HILL